Voltage Electronic Racing Gauge
PRO3 Voltage Electronic Racing Gauge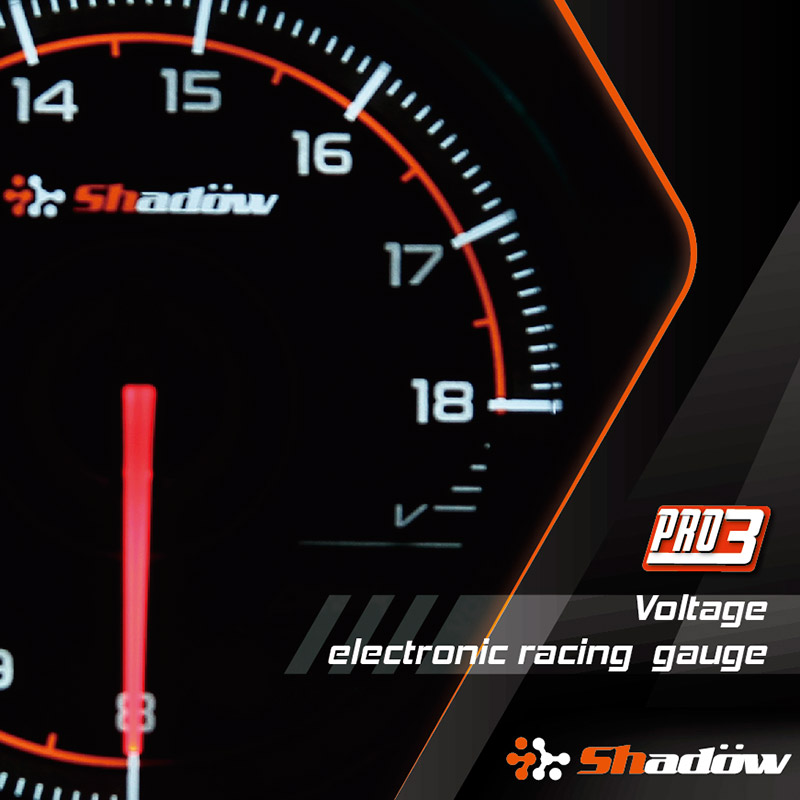 Voltage electronic racing gauge using micro-control technology to resolve the pointer movement angle of 270 degrees into 4088 micro steps. It can detect subtle voltage changes. The vehicle power system is connected in series to monitor the battery voltage. Voltage electronic racing gauge measurement range is 8V ~ 18V. The battery voltage must be maintained at 13V before start up the vehicle. If the voltage is too low, then it will need to check about the battery life.
Features
A brushless motor is use to subtract frictional resistance.
Use micro-control technology to resolve the pointer movement angle of 270 degrees into 1088 micro steps.
Balanced pointers are used to eliminate pointer inertia during rotation.
Special orange aluminum ring can fit in any driving space.
Built-in 6-segment dimming of LED backlight.
12V vehicle voltage. Safety design to protect overvoltage (18V) blocking and reverse current.
Small button design to expand user interface also can transfer as an auto shift light. It will light up at the same time when detect to warning value.
Peak Record: Record the current highest value for users to know the maximum value of data.
LED Backlight Memory: Available setting the backlight color while the headlight is open or off. It will show the setting backlight in next time switch.
Function
Connect to the vehicle battery and measure the voltage value is maintained above 12V. Before starting the vehicle, it must be maintained above 13V. For those vehicles with high power consumption components or batteries that have been used for a period, enough voltage can be ensured to start.
Specification
| | |
| --- | --- |
| Specification | 52mm / 60mm |
| Face | Black |
| Lens | Smoke / Clear |
| LED | White / Red |
| Power Cable | 20cm |
| Cable | 150cm |
Photos
Files Download

---

To guide PRO3 12V DC electonic racing gauges kit to install

---

---

2020 Shadow product of electronic display and electronic controller

---

---

FAQ

Q: The brightness is automatically dimmed when the racing gauge is powered on.

Read More
Know you the best
SHADOW will not only be a pronoun of global automotive electronics products in the future, but also a good partner for modified car owners! Let more people experience the pleasure and convenience of modified vehicles through SHADOW's products!
Recommendation
Advantage
Innovation is Our Policy

16 years of product development experience with the most complete R&D equipment, professional team, one-stop process and rigorous quality control management. Various product modules can be used as the basis...

Read More