【Exhibition】AMPA Show in Taipei 2021
2021/04/14
Shadow
Taipei AMPA will be held at Taipei Nangang Exhibition Center, Hall 1 (TaiNEX 1) 1F from 14th April to 17th April, last for four days.
As an exhibitor, Auto Jaw Co., Ltd. will display its Shadow series products at booth J0401.

Shadow products focus on auto parts in the aftermarket. The products use on-board electronic display systems to monitor vehicles and provide users with accurate and valuable information. As for electronic control products, they are used to adjust vehicle power or performance to achieve not only safe and reliable product appeals but also improve personal needs.

Product Manager Steven said "With the mass popularization and development of mobile devices, it is necessary to import the products into the user context." The technical focal point in 2021 is CAN BUS communication technology. It is faster to transmit by CAN bus communication signal. Combining Internet of Things to upload and download vehicle information and send it to the mobile device for the user to quickly grasp the current vehicle condition and make an appropriate response or warranty. We aim to closely combine individuals, devices and Shadow products.

In order to realize CAN bus combined with product development, R&D resources will be imported to evaluate upgrade requirements for software and hardware.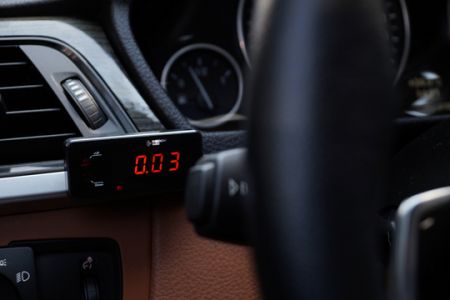 D-METER LITE OBD2 DIAGNOSTIC MULTI-FUNCTIONAL DISPLAY
D-Meter Lite Multi-Functional Display only has an area of 6*2.5cm, which can increase the compatibility of products and internal design of vehicle without any destructive installation. The data is converted into the driver's operation interface through the OBD2 on-board diagnostic system so that the driver can monitor the data in real time. After the introduction of CAN bus communication, the reading speed can reach 0.1 second/time and continue to break through the reading speed to keep the display data synchronized with the vehicle ECU.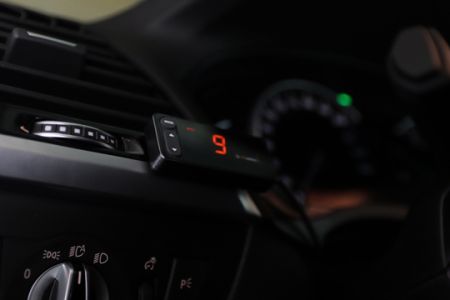 E-DRIVE 4S ELECTRONIC THROTTLE CONTROLLER
AUTO JAW released its key product- E-DRIVE 4S (which is also be known as Electronic Throttle Controller) at the end of 2020. Its biggest feature is plug-n-play. The controller is equipped with 3-core computing DAC translation technology, which can effectively eliminate throttle lag when the vehicle is accelerating and also reduce the throttle response time. Shadow auto's series of products are based on the principle of not destroying the original factory settings. We always use the original accelerator pedal position sensor, so the installation is safe and fast. Moreover, it will not affect the warranty of the original car.
Although we are affected by COVID-19 in 2020 and 2021, we still continue to carry out new product development and upgrades in order to meet the needs of the automotive aftermarket when the epidemic slows down in the future. It is determined that future products will develop in three directions: Wireless, Customization and Big Data. We will continue to check and balance the integration of the industrial chain to ensure a stable supply of materials and reasonable prices to improve product quality. For our partners, whether OEM or brand dealers, we will keep developing new products to stimulate the automotive aftermarket and open up new market sales channels to create profits with our partners!
Exhibition Detail
TAIPEI AMPA 2021
Date: April 14 to 17 2021
Show Hours: 09:00 ~ 17:00
Venue: Taipei Nangang Exhibition Center Hall 1
Booth No.: J0401
Related Products

SW10129

---

Shadow electronic throttle controller uses the throttle signal to change the throttle response time and accelerate the vehicle forward. You can feel the power changes by lightly stepping on the accelerator in these five function modes. In addition, Shadow converts the digital signal into an analog signal which makes the processing rate from 100 times/second to 1000 times/second. It has grown 10 times when we compared with the past. This also makes the throttle more stable and more flexible.

---

---

OBD2 diagnostic Multi-Functional Display is plug and play. It can quickly reads data from the ECU through the Controller Area Network (also called CAN or CAN bus) and use a 16MHz processing core to display current driving information at the maximum rate. OBD2 diagnostic Multi-Functional Display screen is composed of a 7-segment display and LED, which can set multiple groups of warning values. When the data reaches the setting value, it will be warned by flashing. It can flash 6 groups of information at the same time.

---

---
Know you the best
SHADOW will not only be a pronoun of global automotive electronics products in the future, but also a good partner for modified car owners! Let more people experience the pleasure and convenience of modified vehicles through SHADOW's products!
Recommendation
Advantage
Innovation is Our Policy

16 years of product development experience with the most complete R&D equipment, professional team, one-stop process and rigorous quality control management. Various product modules can be used as the basis...

Read More
Racing Gauge & Automobile Meter Manufacturer - Shadow
Based in Taiwan, AUTO JAW CO., LTD., since 2004, is a racing gauge and automobile meter manufacturer in automotive electronics industry. Main product, including Racing Gauge, Boost Gauge, Electronic Throttle Controller, Digital Electronic Boost Controller, Chip Tuning, Turbo Timer, OLED Multi Display, OBD2 Digital Display and so forth.
99.43% in product yield rate, major in automotive electronic modification and reverse engineering. All automobile meters and gauges are manufactured with a series of tests, ranging from environmental simulation test, accuracy correction, actual vehicle test, programming test and assembly test.
Shadow has been offering customers high-quality Racing Gauges & Automobile Meters since 2004, both with advanced technology and 16 years of experience, Shadow ensures each customer's demands are met.