Engine Cooling Fan Controller
Engine Cooling Fan Controller is Suitable for Pickup Trucks.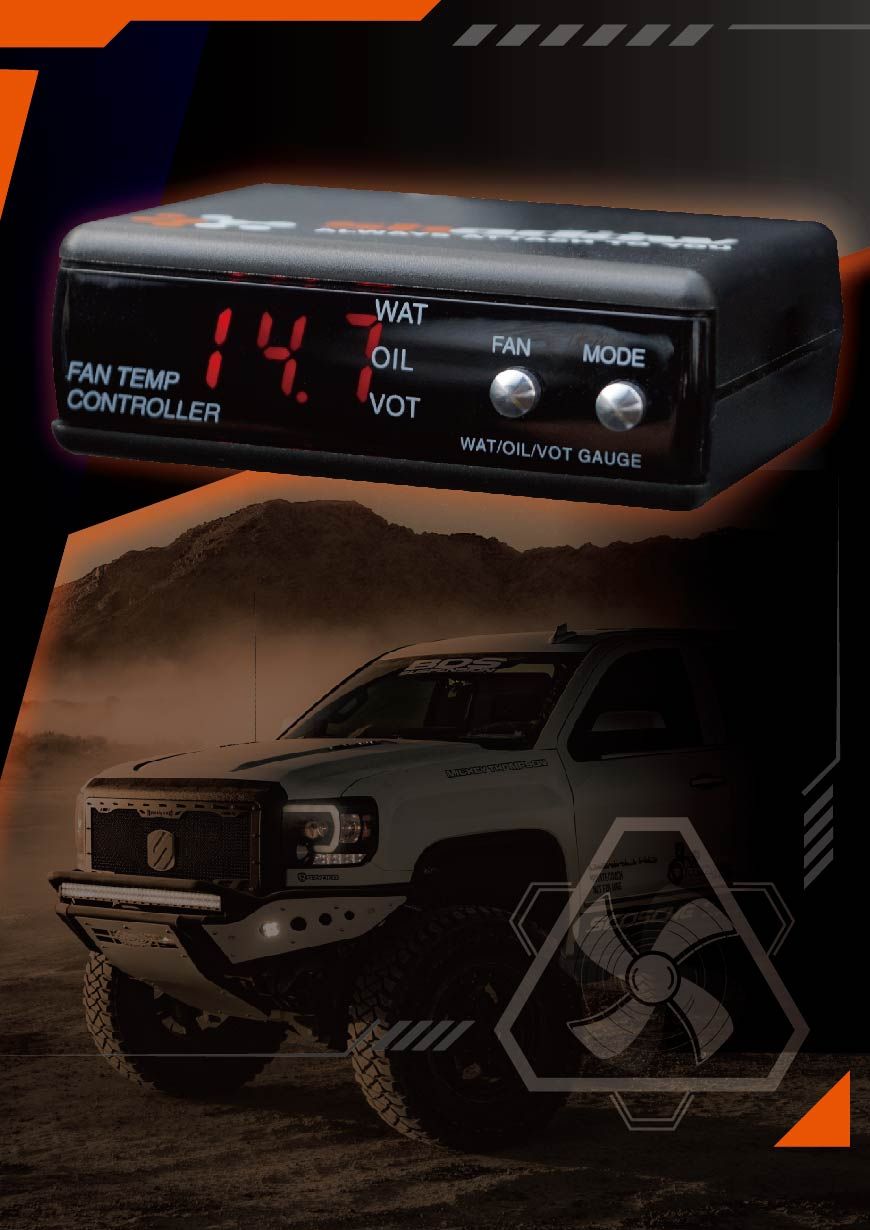 Engine Cooling Fan Controller is equipped with two channels of sensors which can detect the temperature of cooling water temperature and lubricating oil temperature. It is displayed by a seven-segments display with a 1/8NPT temperature sensor.
Engine Cooling Fan Controller can be set up from 70°C ~ 100°C and also can set the warning value memory function. A warning light will show up once it reached the setting value and drive the 12V DC relay to conduct current then turn on the engine cooling fan, it will stop operating when the temperature is lower 5°C than the specified temperature.

Engine cooling fan controller can operate before 105°C earlier than the original vehicle fan in order to increase the engine heat dissipation efficiency. It can keep the parts of the vehicle engine room below 100°C which can prevent the components from cracking or aging due to high temperature.
Features
AUTO JAW extracts the cooling fan of the original vehicle for product development. We know that the cooling system of plays an important role in the safety and performance of the vehicle. Engine cooling fan controller does not require excessive disassembly and modification of the engine parts of the vehicle. It only needs to insert a temperature sensor and connect the control element to the fan of original vehicle to start the heat dissipation before the original setting and increase the heat dissipation rate to 43%. It is suitable for all 12V vehicles.
Function
Engine cooling fan controller can be controlled to start at 70°C ~ 100°C.
Monitor water temperature, oil temperature and voltage at the same time.
Warning set with number flashing as warning signal.
Specification
| | |
| --- | --- |
| Power Cable | 50cm |
| Control Box - Relay Cable | 180cm |
| Relay- Fan Cable | 180cm |
| Sensor Cable | 190cm |
| Sensor | 1/8NPT |
Photos
Files Download

---

Introduction function of fan temp controller

---

---

To guide fan_temp controller to install

---

---

2020 Shadow product of electronic display and electronic controller

---

---
Know you the best
SHADOW will not only be a pronoun of global automotive electronics products in the future, but also a good partner for modified car owners! Let more people experience the pleasure and convenience of modified vehicles through SHADOW's products!
Recommendation
Advantage
Innovation is Our Policy

16 years of product development experience with the most complete R&D equipment, professional team, one-stop process and rigorous quality control management. Various product modules can be used as the basis...

Read More