Electronic Throttle Controller
E-DRIVE 4S Electronic Throttle Controller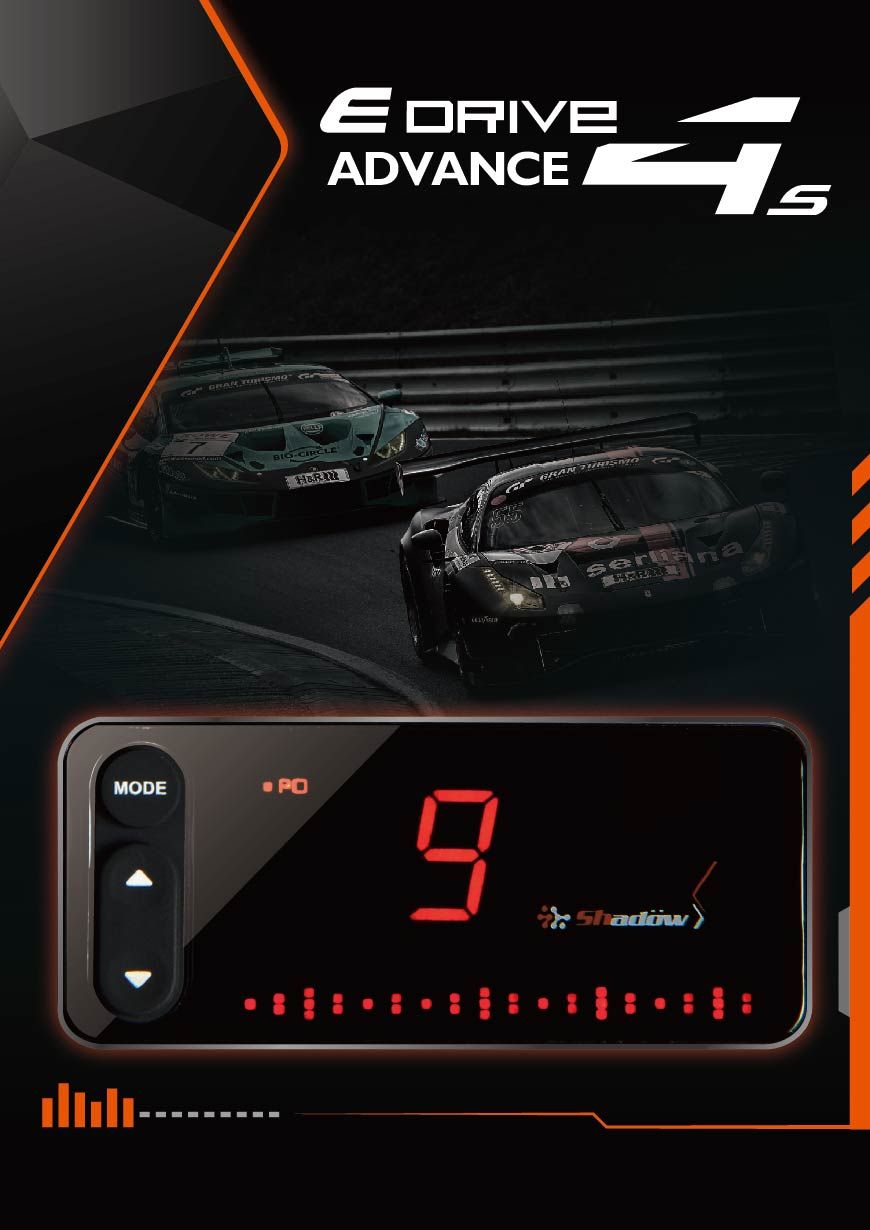 Electronic Throttle Controller uses a 3-core microprocessor to make the processing rate reach to 1000 times per second. Electronic throttle controller has DAC (Digital to Analog Converter) that is used to improve the accuracy of electronic signals and reduce the voltage to 5V in order to make the original vehicle computer (ECU) interpretation not to bring about the error easily.
Not only eliminates the need for capacitance and electric filter but also scale down the volume, let the throttle controller greatly improves the stability and speed. The electronic throttle controller develops a dedicated connector for each model, which can be applied to 96% of the cars in the automotive market.

Electronic throttle controller has 17 segments power mode and eco mode available for option. Except launch control mode, anti-theft mode and anti-slip mode are also added to let the vehicle switch to different acceleration curves.
Features
Electronic throttle controller uses 3-core micro-processor to make the controller processing rate up to 1000 times per second.
DAC (Digital to analog converter) improves the accuracy of electronic signals and makes ECU easier to identify.
Electronic throttle controller develops a dedicated connector for each model, which is applicable to 96% of the automotive market.
The accelerator pedal signal is synchronized show with LED lights on the display.
The aluminum frame is match with silicone button to enhance the user experience.
Function
Power Mode: Gain the response of throttle and amplify the electronic signal in the initial stage of acceleration to achieve the acceleration effect.
Eco Mode: Inverse kinematics mode let the vehicle reduce the power output in the starting and then gradually increase the power to achieve the energy-efficient effect.
Launch Control Mode: By maximizing the initial electronic signal, the throttle can be fully open to obtain the maximum initial speed when the accelerator is active.
Anti-theft Mode: The electronic signal is simulated as the electronic pedal signal has been cut-off, so that the pedal signal cannot be detected and the vehicle cannot be moved during starting.
Anti-slip Mode: If too much power is output on wet and slippery roads such as snow, mud, etc., it may cause the vehicle to slip. Therefore, the power of the throttle initial speed is reduced by the electronic signal.
Specification
| | |
| --- | --- |
| Size | L 6 x W 2.6 x H 1.2 cm |
| Display Cable | 100cm |
| Dedicated Harness | 80cm |
| Frame | Aluminum Alloy + PC (Polycarbonate) |
| Button | Silicone |
Files Download

---

Introduction function of Electronic throttle controller

---

---

To guide electronic throttle controller to install

---

---

2020 Shadow product of electronic display and electronic controller

---

---

FAQ

Q1: How to find the position of the electronic throttle correctly?

Read More
Know you the best
SHADOW will not only be a pronoun of global automotive electronics products in the future, but also a good partner for modified car owners! Let more people experience the pleasure and convenience of modified vehicles through SHADOW's products!
Recommendation
Advantage
Innovation is Our Policy

16 years of product development experience with the most complete R&D equipment, professional team, one-stop process and rigorous quality control management. Various product modules can be used as the basis...

Read More